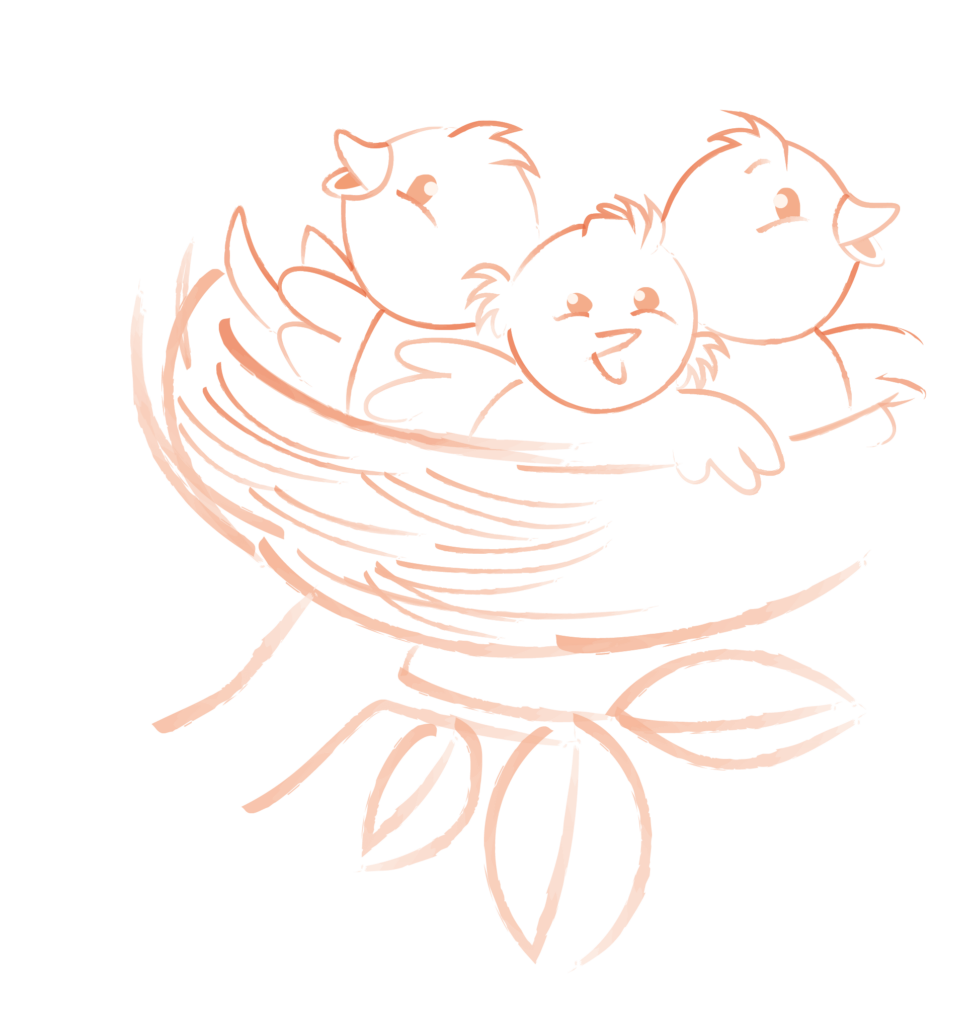 – Unnikrishnan Menon, Subashini Raghavan, Sithaletchumi Ramamurthi
Under Poojya Swamiji's guidance, we at SIRD have come to appreciate the immense potential within ourselves and others. Poojya Swamiji's entire life mission has been dedicated to making us realize that man's perennial search for happiness and contentment lies in understanding and cultivating a healthy, vibrant and expansive mind. Having understood this message, and experienced the immense relief and freedom it brings, naturally did we feel a strong yearning to impart Swamiji's teaching to others, particularly youngsters in their formative years.
Two main projects under our IRD umbrella are "I Can" and "3+3 MTP".
"I CAN"
The I CAN project is an engaging and interactive programme for young children between ages 9-12 years. Bringing the lofty thoughts from Poojya Swamiji's teaching, in a simple manner to children, using various games and activities, this initiative has had a profound impact on youth psychology.
This innovative model focuses on harnessing the untapped potential within, leading children on a journey of self-discovery, where I CAN becomes more than just a statement – it becomes a way of life. This thoughtfully structured program provides tools for young minds to banish doubts, and replace feelings of inadequacy with confidence and self-assurance.
Young children are guided on a journey of self-discovery using activities such as drawing, clay-modelling, and various games that challenge their conventional way of thinking, and help them understand the power they have within themselves. They gain life-transforming insights into their inner personalities, enabling them to face challenges, overcome obstacles, and unleash their full potential. They are then led to an ongoing process of inner development by identifying areas of growth and setting new goals for self-improvement.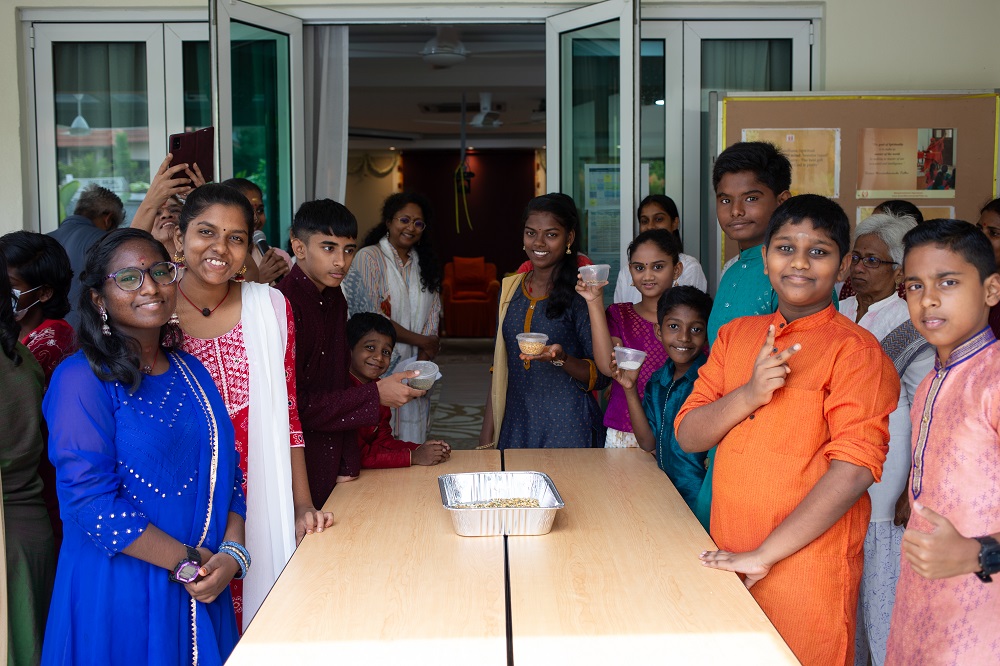 The endeavour has already left its indelible mark in more than 800 children in Malaysia from Tamil schools, welfare homes, and religious/ spiritual organizations. The inner knowledge imparted to them has resulted in improved academic performance, more active participation in school activities, and positive change in their overall behaviour.
The I CAN Project bestows upon students the gift of self-belief, allowing them to embrace the future with a lighter heart. It unlocks the transformative power of self-confidence in their lives, enabling them to grow into empowered individuals, poised to face the world with unwavering confidence and determination.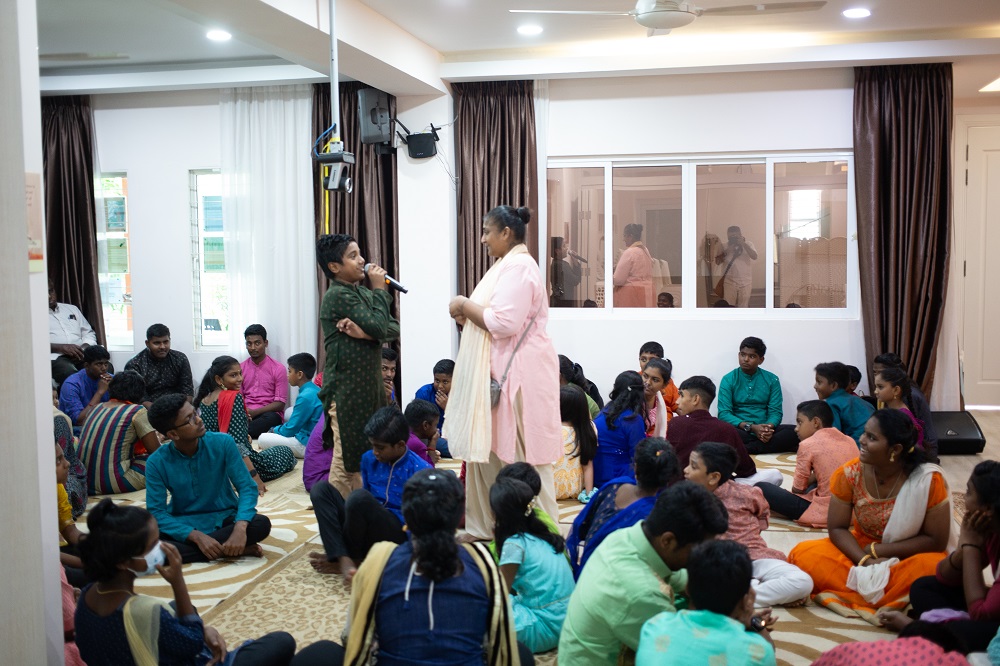 3 Plus 3 MIND TRAINING PROGRAMME (3 + 3 MTP)
This program serves as a preliminary step to introduce Poojya Swamiji's teachings on the potential and power of the mind to fulfil man's quest for happiness, particularly focusing on youth aged 16 years onwards. It was also our aspiration that the knowledge imparted in this training programme will motivate the participants to embark on a deeper study of Poojya Swamiji's teachings.
The programme comprises 3 workshops lasting 3 to 4 hours each. The first workshop focuses on imparting the fundamentals of mind regulation. Subsequent two workshops discuss the practical challenges faced in practising mind regulation and ways to overcome them. Participants are required to attend all 3 workshops.
In the 3 plus 3 Mind Training Programme, participants are first made aware of the three most constrictive mental habits and also the enlightened mental habits that should replace them:
Non-acceptance, to be replaced with acceptance.
Half-empty glass outlook, replaced by half-full glass outlook.
Focus on external causes for one's plight, replaced by self-reliance and self-analysis to overcome one's own plight.
The youngsters are then taught three lifelong practices that are absolutely necessary for the three new enlightened mental habits to take root and become everyday behaviour:
Daily practice of watching your thoughts for 30 minutes.
Respond, and not react, during interactions.
Become member of a family group that meets weekly to discuss progress in this transformation programme.
Since January 2022 several sessions have been conducted in the states of Johor, Kuala Lumpur and Selangor. These sessions have benefitted more than 100 participants. Some feedback from past participants:
I gained knowledge about how to train my mind to think about a winning mindset. I also was able to learn new things to practise every day to better myself and to make the mind clear and calm.
This program really helped me a lot in upgrading myself. From now on I am sure I can control my reactions and respond to issues first.
The program was quite amazing; I got motivated and gained knowledge. I will eliminate my negative thoughts and will start to think positive.
Comment by Vinod Menon, Professor of Psychiatry, Neurology, Neuroscience and Education – Stanford University: "The 3 + 3 Mind Training Programme draws on ancient spiritual and modern scientific knowledge to offer advice that is deeply meaningful and highly practical. It will launch you on a life-long journey of self-discovery. Start early!"
Jai Guru