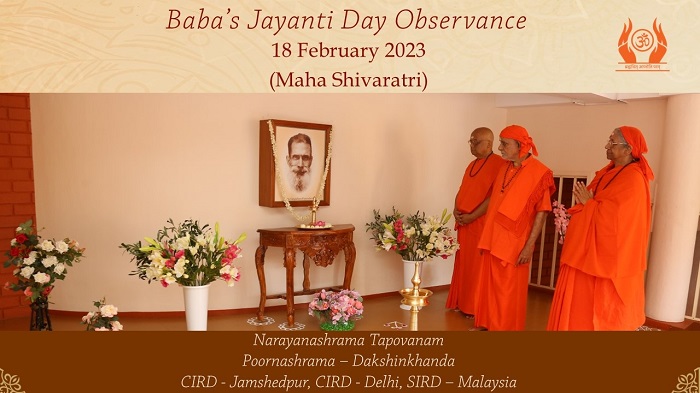 Poojya Swamiji's Gurudev Baba Gangadhara Paramahamsa of Dakshinkhanda, West Bengal was born on Shivaratri day. Baba's Jayanti is always observed in Narayanashrama Tapovanam—Kerala as well as CIRDs (Delhi, Jamshedpur, USA), SIRD (Malaysia), and Dakshinkhanda (Baba's Poornashram which is under reconstruction this year).
This year, Baba's Jayanti will be observed in the Ashram and CIRDs on Feb 18, 2023.
Baba led a unique ascetic life, remaining in Poornashram, Dakshinkhanda. He was given to plunging into complete solitude and the austerity of 'mind-dissolution' aimed at supreme spiritual wisdom of Oneness. He lived in a room blissful within himself, meditating for long hours, singing bhajans and reading the shastras.
Baba's austerity was exceptional and extraordinary in nature. His life of exclusive Brahma-niṣṭhā has been and will continue to be a beacon light for all seekers of Brahmavidya.
Baba's Jayanti is observed remembering the great life of Baba which was dedicated to austerity and Brahmavidya. Flowers are offered at his altar which is followed by messages by Poojya Swamiji, Nutan Swamiji and Ma, reminiscing about their own association and interactions with Baba.
To watch video of Baba's Jayanti day observance in 2022 , where Poojya Swami Bhoomananada Tirtha, Swami Nirviseshananda Tirtha and Ma Gurupriya speak about their unique relationship with Baba Gangadhara Paramahamsa, click here